Dennis Nicholl, a 63-year old public accountant, Old Style drinker, and White Sox fan, may be described by coworkers as a "harmless guy" but he very much wants to harm the public's cell phone reception — at least when people are chatting on Chicago's "L" train during his commute. He was recently arrested for using an illegal cell phone jammer to silence the talkers on his regular Red Line regular trips , ending a months-long police search.
Police were tipped off in the fall after Chicagoans reported Nicholl's signal jammer, but it wasn't until photos of him holding a clunky device with thick antennas surfaced online, that the search picked up steam.
Local police, the Federal Communications Commission, and the Chicago Transit Authority teamed up to catch the cell phone crook, culminating Tuesday when an undercover officer witnessed Nicholl use the device. When he got off the train at Granville station he was arrested. (He was released on bail on Wednesday.)
The Chicago Tribune revealed that, in the arrest report, Nicholl admits to using the jamming device because "he gets annoyed at people talking on their cell phones while riding on the CTA." Nicholl is clearly a man who needs more alone time.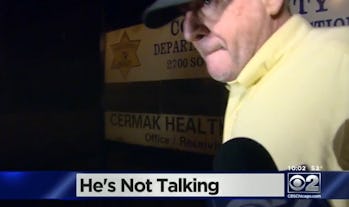 This was not the first time Nicholl has had brush with the law. In 2009 he pleaded guilty to a misdemeanor charge for, naturally, cell phone jamming. At the time he was placed under court supervision and his equipment was destroyed. The world of 2016 must have looked bleaker to Nicholl — in 2009 about 80 percent of American adults had cell phones. As of 2014, about 90 percent of Americans had cell phones — a number that is likely have increased since the last Census poll.
Cell phone jammers are not unheard of — the item was one of the top 10 searches on Google Trends in 2012 when a man who went by "Eric" told NBC 10 Philadelphia that he often used a cell phone jammer on his bus without regret. But while YouTube is filled with explainer videos for building a jammer, that doesn't make them legal.
Under FCC regulations, it's illegal to market, sell or use cell phone jammers — also known as signal blockers, GPS jammers, and text stoppers.
Although a handful of marketers say that the devices are legal in the United States, they're lying. In 2014, the FCC hit Florida resident Jason Humphreys with a $48,000 penalty for using a cell phone jammer as he drove around Tampa.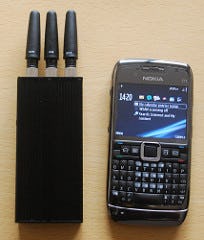 Jammers block all radio communications on devices that operate on radio frequencies by emitting its own radio frequency waves, effectively halting the connection. Besides being a pretty Napoleonic way of establishing power, they're illegal because they stop all transmissions in the area, effectively halting any potential emergency communications.
"Jamming devices create serious safety risks," FCC Chief Michele Ellison said in a 2011 statement. "The price for one person's moment of peace or privacy, could be the safety and well-being of others."
While we can't recommend that you build one, it's not exactly hard to figure out how. The illegality of the device means most videos on YouTube are actually reviews and not tutorials, and some have managed to sneak by.